Wood Stoves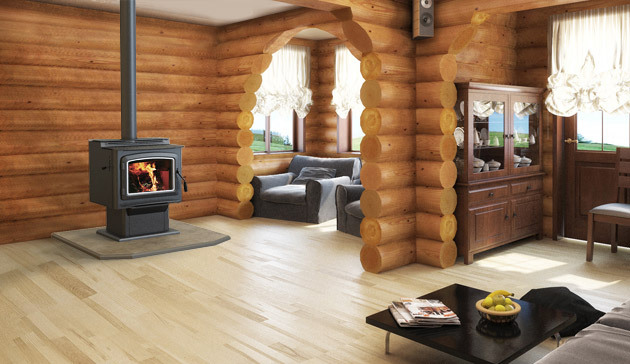 Wood burning stoves use real fire fueled by logs to keep the area warm. Wood stoves are a great heat alternative, save on your gas and electric bill during the cold winter with a wood stove. Wood stoves are versatile and can be places anywhere in a home as long as it has access to properly vent the chimney.
Alderlea
T4
Conveniently sized for spaces up to 1500 sq. ft., yet big on performance, The Alderlea T4 in historic cast iron incorporates all the outstanding features of the larger Alderlea woodstoves – huge glass for a full view of the fire, a Cook Top for peace of mind during power outages, powerful heat output, a high efficiency rating, and user friendly operation. An effective heater with old world charm.

Install Manual
T5
Built around Pacific Energy's legendary Super Series steel firebox, the Alderlea T5 combines the very best features of both cast iron and steel stoves. Elegant, historic cast iron styling that adds to the decor of any room, radiant and convective heat, huge glass for a full view of your fire, a concealed cook top for peace of mind during power outages all in a proven easy-lighting, clean, long-burning heater with 30 years of wood stove technology behind it.
T6
Patented Extended Burn Technology (EBT) gives the Alderlea T6, the largest of the Alderlea cast iron stoves, all-night burns with maximum heating capacity. Huge glass opens up the view of your fire. Huge cook top surface comfortably fits a large casserole pan with warming space to spare. The Alderlea T6, and all Pacific Energy wood stove products, are backed by our Limited Lifetime Warranty – our promise of many years of wood heat comfort.
True North
TN19 Wood Stove
This rugged wood stove is designed for the serious wood burner; user friendly operation, straight in loading and clean glass air wash system make this an outstanding performer.
Pacific Energy
Vista Classic
Vista
Spectrum Classic
Spectrum
Super 27
Super Step Tom
The Fusion
Summit Classic
Summit
Sierra Products